Recently I was contacted by eShakti to review any clothing item from their site. I was excited for the opportunity, but had a hard time choosing what I loved. They have a ton of cute dresses, and adorable skirts! It came down to this ruffle dress and the dress with the polka dots. Obviously the dots won 🙂
What I really like about eShakti is the wide range of sizes they offer and the capability to customize the clothes to your size. They do not stock any sizes so each style is cut to order. I thought it was interesting that every style requires a height measurement–whether customizing or not. This is to ensure that it is the perfect fit for you. 
You also have the choice to choose the sleeve style, and skirt/dress length. I kept the original sleeves and opted for the short length.

I loved the way the dress turned out! One of my favorite features on the dress is the snaps under the sleeve to ensure no bra straps slip down or peek out. The material is light and flowy. Another bonus, pockets! 
For now, adding tights and a shrug make the dress wearable on a cold day. I am looking forward to wearing it more this summer!
If you sign up for eShakti today you can get a $25 gift coupon. They also are running a deal for buy one item get the second item 50% off. I already have my eye on a few things!
Happy first day of spring! Mother Nature didn't get the memo around here and we have a high of 38* today. Did spring show up for you yet?
Linking up for Get Your Pretty On & WWIW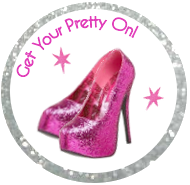 *This dress was sent to me for a review. All opinions are 100% my own.